Greetings folks,
Happy official first-day-of-spring-in-this-part-of-the-world to you. Typically, after last week's blurt of sunny weather, Amsterdam responds to the "official first day" with typical grey blah. Still, one more cozy weekend in with good food and films is no problem, and there's a calendar filling up with fun for the coming months to look forward to, so no complaints, as ever.
Also it's time to don the metaphorical party hat once again and sing
Happy Birthday
to the good ship #LC, who turned 4 on Friday. Thanks to everyone for chipping in their album picks over the years, it's really been a hell of a lot of fun. And vortex picks too! (Speaking of which, there's another one next week, if you can bear the thought after the
#cringerapvortex
, so topic suggestions please!)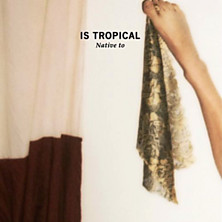 Last week,
@cakehugga
was in the chair, nu raving us into submission with her pick of
Is Tropical
's
"Native To"
from 2011. Many thanks to her for the pick, and for flipping the frisbee back to me! So...
"...Here we go again.
Looking back over my previous picks, I seem to flip-flop between new things that have been dazzling my ears recently and older things from the left-of-center region that have left a very permanent scar on my musical psyche for one reason or another. As the last thing I picked was very new, yep, it's time to go back into history again...
Discovering this band way back when I was a teeny-tiny-thing was a pretty standard affair - seeing a video or two on a well-respected music programme of the time that tickled my curiosity, then chancing upon the corresponding album during one of my occasional visits to that London to dig through the multitudinous racks of sounds that would never make it anywhere near my small-town upbringing.
All of which would be pretty much by-the-book if the band and album in question hadn't been so damn strange.
The videos (which were still rather a rare commodity at the time, hence, I guess, how they managed to get them broadcast on the fuddy-duddy BBC) were grainy, low budget affairs filled with home-made sets, costumes and masks, and the music had an equivalent feel, although considerably more intentional, as if the band had decided against a more produced sound to go for something deliberately more feral and basic. On top of that there was the actual concept of the album (yes! a concept! but fear ye not, tis not a prog-style narrative), which seemed both absurd yet highly logical at the same time, and of course, a cracking bit of cover art, all of which led to an immediate purchase, and one rather boggled young mind when I got it home and put the thing on.
The kind of artistic ideas and freedoms this bunch have made their career stock-in-trade seem a hell of a lot more commonplace and easier to achieve now than they were way back when, it's true to say. Also I must admit that I'm not a huge fan, a fair amount of their work is so far out there that I don't think anyone understands it apart from them, and I'm sure that's pointedly deliberate, but as I commented the other week on @wojsvenwoj's pick: I'm glad they exist. At the time, this record truly expanded my youthful ideas of what you could get away with, on an album, or anywhere.
I should note that I haven't listened to this from start to finish for many, many, many years either, so it'll be interesting to see if I still like it.... And interesting to see if you do, too, of course. And if you don't, well, don't worry; none of it is that long."
Right. Direct download is
here
, and the HearThis stream is...
Hope to see you at 8pm GMT...