Greetings from Portland, Oregon!
Well, not strictly, as I type this I'm still in San Francisco, getting this sorted
well
ahead of time, as I know not what craziness awaits me in PDX. Hopefully it will involve more good breakfasts, much conversation, and lots of tasting of micro-brewery produce. It's most likely to be rather hectic though, as I'll be checking out all the joys that
XOXO Festival
has to offer over the weekend after my sets on Thursday and Friday...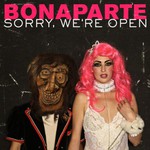 So, last week yes? Another splendid selection, this time from
@jayesofine
, of
Bonaparte's "Sorry, We're Open"
. A band unknown to pretty much all who heard, and, in my opinion anyway, one of the finest picks we've had. Actually the last two selections have both been pretty awesome, but the #LC baton has now been passed back to
me
, so despite being 5371 miles away from (most of) my music collection, thanks to LogMeIn, here I am to fuck shit up again...
"Oooookay. I'm going against the grain of relatively new albums that most folks (myself included) have been picking, with something from a long, long while ago, and an album that I can honestly say completely turned my world upside down when I first heard it, still ranks high in my all-time favourites list, and at the time contributed considerably to my nascent understanding of what is, and what could be considered music. (Scared yet? Don't be... you can trust me!)
Add to that the fact that at the time of typing I'm residing in this ensemble's home state, and that the subject matter of at least one of the tracks is pertinent to LC peculiarities, and well, it was a shoo-in.
For exposure to this record in the first place, it comes as no surprise that I have to thank John Peel, who gleefully dropped several of these tracks amongst his indie selections of the time. It truly tickled my earbuds, so the next time I was in London (nearest home of decent record shops), I headed straight for Oxford Street HMV (being too young to know of the more savvy indie shops) to see if they had it. I delightedly plucked the only copy in stock from the racks (can still picture this in my mind, as you may be able to tell), scurried home, dropped the needle on side one, and well... as I said, life, and my perception thereof, was never quite the same again.
I guess that's a common story, but this is not a common album, oh, lordy, no.
I could wax more lyrical ("really?"), but I'll save it for the playback, which I will try my best to attend, despite, as mentioned above, being in the middle of XOXO festival in Portland. Who knows, I might even be able to blag some speakers and convince a few folks there to share the experience with us. We'll see...
A couple of you may know this album already, although if you do, I'll bet you haven't listened to it from top to tail for quite a while. Like all the greatest recordings it bears repeated listening, revealing more and more secrets every time.
So dim the lights, turn it up a bit, crack open a bottle of something good and strong, and settle in for a very unique ride indeed..."
There you go!
Download is
here
(Mediafire link) or you can listen via Mixcloud
here
, if the bloody thing works
!
Start time, as always, is 8pm BST (GMT+1). Search
#listeningclub
to see what's going on, and follow@listeningclub for the admin.
Spread the word, and as with last week, I shall endeavour to be joining you at 8pm BST to guide you!